It is the end of a lovely snowy weekend. I am sitting by the woodburner, toasty warm and reading blogs - a very nice way to spend a Sunday evening.
I was supposed to go to work today, but it was closed because of the snow, so instead I took the children out on their sledges and made snowmen - a far nicer way to spend the day!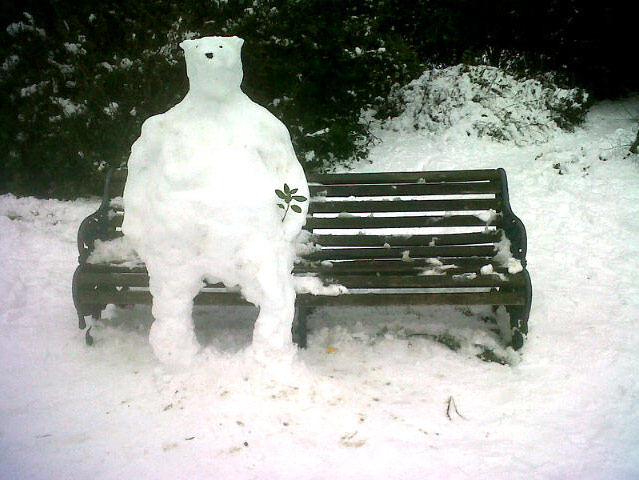 I wish I had made this snow polar bear! (Guardian website)
Yesterday was spent at a craft workshop, making bags out of tweed jackets. It was a lovely day, surrounded by gorgeous fabric and pretty things. It was held by the lovely Louise Preseley in her studio,
Hope and Elvis
. Now, I am not much good at sewing and can about manage a straight line with a sewing machine, so was amazed that I made a bag, and that I will actually use it! I am quite tempted to make some more. (these are not mine by the way)
I am starting on number
16 - Learn a new language and use it.
Later this year we are going to France with old university friends and their children, so I thought it would be a perfect opportunity to learn French and make use of it. I will be using the Michel Thomas CD's (these can be got from the library). I have had a go with them before and they are really good - I just have to keep going with them.
In the spirit of all things Frugal - tonight's meal is being cooked on the woodburner. We have a woodburner in the kitchen, and this is the room that we spend all our time - it has a sofa, a 6 seater dining table and lovely big bi-fold doors that open out onto the garden - it is this room that sold the house to us and I love it. In fact, I haven't sat in the lounge for months! So we thought as the woodburner is going most of the time, why don't we cook on it. So this evening we have a bubble and squeak merrily sizzling away.
SFT - I did indeed get my belt. It went really well and couldn't stop smiling for days! I am now Green and White, still another 2 or 3 years away from achieving black belt, but I am enjoying the journey.
Saheen - I did try and post on your blog, but not sure it worked. I hope the move goes well for you and you get down the allotment soon. I have really been enjoying reading your recipes - we are making Chickpea and Rosemary soup tomorrow.